NAK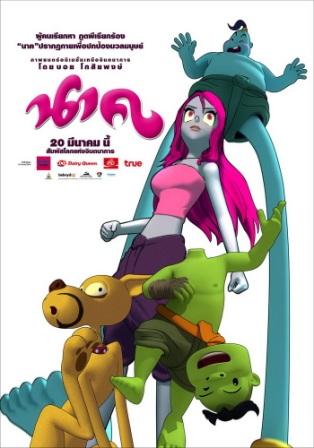 Film d'animation Thailandais, réalisé par Nuttapong Rattanachoksirikoon
Produit par Sahamongkol Film International et Beboydcg
Nak sortira dans les salles locales le 3 avril 2008 (thailande)
Depuis quelques temps déjà, l'animation thaïlandaise s'éveille.
En 2006 sortait ainsi le premier long-métrage 3D thaïlandais,
KHAN KLUAY
.
(V.o) The story of Mae Nak, the legendary woman ghost that been told
through generations for decades in Thailand is going to be told again in
a new and amusement way. When talking about Mae Nak, she reminds
Thai people of the great love that Mae Nak felt toward her husband and
the fearsome power that she did for anyone who dared to interfere her love.
Now, the legend of Mae Nak is modified into a delightful animated movie for
the first time in "Nak". When Mae Nak and her ghost friends move to a small
village, they find rowdy ghosts kidnap a little boy to the world of spirits.
Then, sympathetic Mae Nak follows the bad ghosts to the world of
spirits defeating the King of all spirits to bring the boy back to his world.
A la vision de la bande-annonce de
NAK
, on constate que l'animation thaï
a encore des progrès à faire, normal. Mais à défaut d'être parfait, Nak
devrait apporter une pierre à l'édifice de cet essor de l'animation thaï.

Voir la Bande-Annonce !!
Site Officiel

http://www.nakmovie.com/