THE LION OF JUDAH - THE MOVIE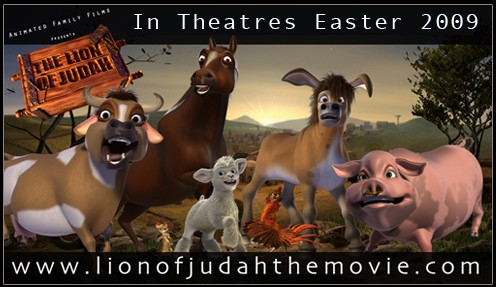 Click sur l'image pour être dirigé vers le Site Officiel de ce film d'animation !
Voici le premier film d'animation CGI réalisé en Afrique du Sud à Cape Town
Co-Production entre Animated Family Films, Sunrise Productions
Le sujet
(v.o): A young Lamb by the name of Judah thinks he is a Lion and
that he can set people free, until he learns of a King that was born in a
Stable in the city of Bethlehem some 33 years ago. Judah is taken to
Jerusalem for the Passover sacrifice being that he is an unblemished lamb.
His friends from the stable go on a rescue mission to the city of Jerusalem
to set Judah free. But they also know that only the King that was born
in the stable is the only one who can give them hope.
A savoir que Tom Roth, animateur aux États-Unis et Eric Lessard,
des grands noms dans le cinéma d'animation, ont apportés leur
contribution en supervisant l'équipe et l'animation sur ce film. (+)
Site Officiel

http://www.lionofjudahthemovie.com/