ZHU ZHU PETS, LE MAGICIEN DU PALAIS DES REVES
!!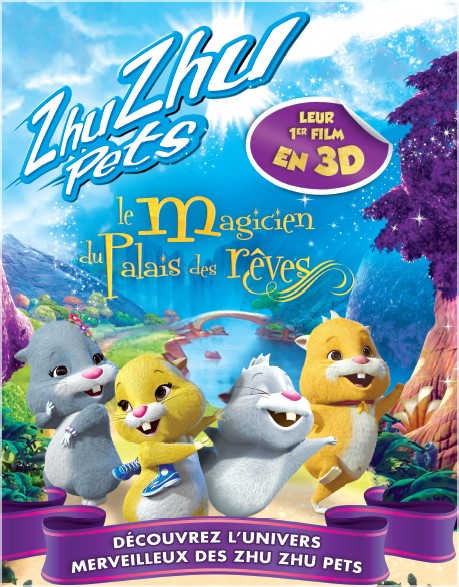 Titre original
: The ZhuZhu Pets movie "Quest for Zhu"
Long-métrage d'animation américain réalisé par Bob Doucette, il
est basé sur la franchise des jouets "Zhu Zhu Pets", produit par
Universal. Cepia LLC, fabricant de ces petits hamsters interactifs,
a annoncé des droits télévision dans le monde entier et la produc-
tion avec Universal Pictures de deux longs métrages d'animation,
"Quest for Zhu" pour 2011 et le second "Power of Zhu" pour 2012.
Synopsis
: Quatre hamsters se retrouvent soudainement de l'autre
côté du Zhunivers... Dans ce monde magique se situe le Palais de
Zhu, où tous les rêves deviennent réalité. Pourtant, pour y arriver,
les héros doivent éviter le dangereux serpent Mazhula, qui essaie
de contrôler le Zhunivers. (Page Facebook - La Chaine Youtube).
Ce premier long-métrage d'animation ne sera pas distribué en salle
mais il sera disponible en France directement en format DVD/Blu-ray
ou Combo dès le 08 novembre 2011. (Consulter la Fiche sur Allociné)

L'univers de Zhu Zhu sur http://www.zhuniverse.com/. (Press)